Welcome to the Save My Marriage Today Affiliate Program!
Congratulations on becoming a Save My Marriage Today affiliate. Now it's time to make some great money promoting a high quality course!
Save My Marriage Today is the ultimate site retailing marriage advice for rescuing marriages for men and for women, and is the Number One Save Marriage Program on ClickBank. Check it out!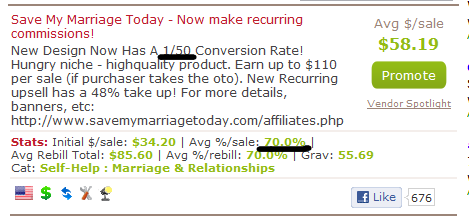 We pay you a staggering 75% commission for EVERY sale referred, plus you can earn an additional 50% recurring commission! Customers are offered a one month trial of our continuity product when they join Save My Marriage Today. We are paying you 50% recurring commissions on this and approximately 48% of people who join SMMT take this recurring option, so that is great news for your long term commissions! :)
Now you can make the Easiest Sales Of Your Life with our best converting design EVER! It's priced right and completely sells itself! It costs nothing to try and you don't even need a web site!
We have a huge resource center, packed with images, banners, swipe emails to copy paste directly to your lists, articles, keywords, plus much more for each of our products that you can use absolutely free! I WANT to make it easy for you to MAKE MONEY!
If you own sites related to marriage advice, relationships, counseling, or self-help, or if you just want to start your own marriage advice campaign, then this is the perfect program for you. Find out for yourself why this is such a great seller with an incredibly low refund rate.
Questions?
If you have any questions, ideas, or promotions you think we would be interested in, feel free to contact our affiliate team directly. Click Here To Contact Us or skype me at andrew.rusbatch
We are always happy to assist and customize resources to help you maximize your campaigns!
Promote More Courses?
And if you are interested in promoting more great marriage-saving courses from the makers of Save My Marriage Today, check them out here.
Beginners Affiliate Resources
Here's a list of the tips you'll find.
Who Pays You? ClickBank
Clickbank.com is The Most Trusted 3rd Party Affiliate Program On the Internet! Checks come TWICE A MONTH and are Always On Time.
If you don't have a ClickBank ID, sign up here! It takes about 1 minute. CLICK HERE to get a FREE Clickbank ID.
To get your Affiliate Sales Page Hoplink, Enter Your Clickbank Affiliate Id Below:
Send traffic through your hoplink and get 75% of everything you sell plus 50% recurring if your customers take up the continuity offer!
P.S. You can get special keyword-targeted sales pages for the Premium Course. Get them here!
WARNING:
Site conversion is what counts in this business and we have the highest converting site .. period! Think about it .. don't be short sighted!
We have set our prices and percentages so that affiliates make the most possible money through conversions, conversions, conversions. Try it and see!
5 Reasons Why You Should Only Promote Us
Our refund rate has never exceeded 2%! Compare that to any other competing site.



We only use ClickBank, which means you get 100% of all of your Sales!



We send follow up letters that direct the customer back to our site and you still get commission for the sale!



We make it as easy as possible for affiliates by having one of the most comprehensive affiliate resource centers on the net! It is so easy that you can show anyone how to make money with it!



Our members are loyal to us, we provide a fantastic product at the lowest possible cost so they write us thank you emails everyday! The point??? You can feel good about the money you make with this fully legitimate home based affiliate business!
Tips for Beginners to Make Serious Money Fast!!!
John Reese, a MUST for every internet marketer.
If you are new to the world of affiliate marketing, one thing you will become well aware of is the success of top internet marketing gurus. These are the people making $1,000,000 to $100,000,000 per year through the internet. Arguably one of the most successful internet marketers is John Reese. If you ask any affiliate marketer about John, you will soon find most people have heard of him, and many base their marketing strategies on John's teachings, including the marketing team at Save My Marriage Today & 000 Relationships Network.

If you haven't already heard of John Reese, click the link below to get to his blog. You will find some great marketing strategies to boost your Save My Marriage Today campaign.
Click Here for the latest Income.com blog post from John Reese.
Use Pay Per Click Search Engines to Generate INSTANT Revenues!
A great place to start you advertising campaign is Google Adwords and other pay-per-click search engines. If you are new to PPC search engines or would just like a great lesson in making Google ads that sell like Crazy, try reading this fabulous E-Book: GOOGLECASH.
Plus, you can use various relationship misspellings! If you don't already have it, a great tool for finding hundreds of successful keywords in seconds is WordTracker.
Another keyword finding tool is Inventory.overture.com
Yet another is keyworddiscovery.com
$$Million Dollar Tips$$
If you are not advertising on misspellings (typos), you are in the wrong business! Don't waste your time, if you don't have the time to add the misspellings of every keyword and combination. Simply go through and advertise on misspelled words and typos!

example: marriage counseling = marriage couciling = mariage counseling = marrage counseling

Get the idea? Good. Now go get searching for keywords. If it makes you just 50$ extra a day, it pays for itself over and over again!
$$More Million Dollar Tips$$
If you are not using at least 5 search engines to get cheap traffic you are blowing money away!!!! IT'S FREE MONEY! Don't be lazy!!!


Recommended Top 10 Pay Per Click Search Engines
So you're looking to promote Save My Marriage Today via the various pay per click search engines?
Well first of all you should realize that google isn't everything. Yes it does produce fantastic results, return on investment is good, and there is a lot of visitors coming from there. But there is also a world of traffic outside of google, and often it is less competitive to purchase, so print out this page and take a look at these other pay per click search engines. I especially recommend that you join ALL of the big 3 below:
The Big 3:
Google Adwords - This is the biggest and best volume for traffic quality. Has a great user interface, however is also often the most expensive.
Yahoo Search Marketing - Also very good for targeted high quality traffic. Not as high a volume as google, but still enough to be considered very significant. Don't forget to sign up to Yahoo USA, Yahoo UK and Yahoo AUS individually as you need to sign up to each one separately for some strange reason. It's a bit of a nuisance doing this, but well worth it. Yahoo UK and USA in particular are absolute must haves, while Yahoo AUS is growing and has a fantastic Return on Investment per click.
MSN Adcenter - Growing all the time. Very good conversion rates. The volume of traffic is much lower than google and is about half that of yahoo, sometimes even less, but often comes cheaper with a higher return on investment. Well worth having.
Next 2 up and comers:
Looksmart - Often underrated, can produce very good return on investments.
Miva - Up and coming ppc search engine that has been known to produce good results.
Final 5 worth a go:
7search - A smaller search engine with good quality traffic. Good interface. They claim better ROI than either Google or Yahoo! because of their high quality traffic sources.
Go click - Cheap traffic, with a growing and loyal following. GoClick still lets you start an account with only $10 and bid from 1 cent.
Enhance - A strong emerging Pay Per Click search engine that has good solid quality control.
Search123 - One of the first PPC search engines. Cost effective with good support. Fund with $50 and they'll give you $20 free.
More Marriage-Saving Courses To Promote
If you enjoy promoting courses about marriage advice and saving relationships, the makers of Save My Marriage Today have a number of other courses that pay a similarly generous 75% commission, with good conversions!
Don't limit yourself to one campaign. Offer your subscribers and leads maximum opportunity to find the best course for them... plus commissions for you!
Relationship Recovery - A New Way To Save Your Relationship
They have told you they love you but aren't in love with you... There is a growing feeling of unfulfillment in the relationship... You don't talk or laugh as often as you used to... You seek out friendship and companionship in outsiders instead of your partner... All of these things can point to a relationship in crisis, and it's not a nice feeling. But with the right level of commitment, and the right advice, it is possible for your relationship to recover.
Author Rachel Rider has assembled a course that cuts right to the heart of relationship problems, and offers time-tested and proven techniques that will help you examine and fix your relationship, no matter how bad it seems.
It's the latest course from Meet Your Sweet, and is currently experiencing strong conversions plus further backend sales and additional commissions for affiliates. 75% commissions on the front end plus 50% recurring commissions!
Access the Affiliates Resource Area to get your emails, articles, images, banners, pre-written reviews, plus much more!
Click Here To Find Out More About Promoting Relationship Recovery
2nd Chance - How To Win Back The Love Of Your Ex!
Have you broken up with a loved one and want to do anything to win back their love? Crying? Begging? Pleading? Threatening? All to get your ex to give you another chance?
If you aren't sure WHAT is the best approach to take to give yourself the best possible chance of success at getting back together, then you need to put an end to the guesswork and get the real answers. Mirabelle and Amy have just developed a 6-step program that GUARANTEES Relationship Rescue Success!
It's another great course from Meet Your Sweet, and is one of our most popular courses. High price point plus further backend sales and additional commissions for affiliates. 75% commissions on the front end plus 50% recurring commissions!
Access the Affiliates Resource Area to get your emails, articles, images, banners, pre-written reviews, plus much more!
More Meet Your Sweet Courses
Are you in the dating and relationships niche and looking for quality products to promote to your subscribers?
Not only are all Meet Your Sweet courses packed full of the most up-to-date information to help girls and guys achieve their attraction goals, they are well designed and all have 75% commissions for affiliates.
It doesn't matter what your dating and attraction niche is, Meet Your Sweet has a course that is going to appeal to your subscribers and offer you the opportunity to rapidly increase your Clickbank paychecks! Best of all, our affiliate team is always on hand to assist you in getting what you need to maximize your campaign. Just ask, we are always here to help!
Courses include:
2nd Chance
Conversation Chemistry
Supreme Self Confidence
Connect And Commit
Get A Guy Guide (for women)
Fireworks With Females (for men)
Relationship Recovery
Ultimate Attraction Transformation Series (recurring billing, 75% commission!)
Meet Your Sweet has one of the most dynamic and forward thinking affiliate programs, and we are totally committed to getting the most out of your campaigns. Competitive price points plus further backend sales and additional commissions for affiliates. 75% commissions on the front end plus 50% recurring commissions on some backend sales!
Access the Affiliates Resource Area to get your emails, articles, images, banners, pre-written reviews, plus much more! Get promoting!
Click Here To Find Out More About Promoting The Meet Your Sweet Course Range
More Courses in The 000Relationships Network
If you like promoting Save My Marriage Today, we have a number of other courses from the same company that you may want to promote to your lists.
Do you have lists of men and women looking for love? Looking for skills to take them to the next level of attraction? Got subscribers looking for kissing advice, or proof that their partner is cheating on them?
We have a number of quality courses, all paying 75% commissions for you to check out.
Courses include:
How to Be Irresistible To Men
How to Be Irresistible To Women
Make Every Man Want You More
How to Be Irresistible to Women Mastery Series
Kissing 101
Seduction Genie
Catch a Cheating Spouse
Access the Affiliates Resource Area to get your emails, articles, images, banners, pre-written reviews, plus much more!
Click Here To Find Out More About Promoting 000Relationships Courses
More Information
If you have any questions, ideas, or promotions you think we would be interested in, feel free to contact our affiliate team directly. Click Here To Contact Us
Illustrated Example - Landing Page Concept